Janaszkowo Settlement
In the heart of Poland, in Wąsosze near Konin, there is a two-level, unused building. This building – nearly 2000 sq m together with 2.5 hectares of a beautiful park by the lake we, Doctor Piotr Janaszek PAY IT FORWARD Foundation, got from the Ślesin commune as a place where people with disabilities will start living again. Here, the Janaszkowo settlement will be created, but for this to happen, we need to renovate and furnish empty rooms, eliminate the thresholds and steep stairs, dry the foundations, eliminate dry-root in the basements, build an elevator, two additional staircases and add a floor, adapt the bathrooms and rehabilitation rooms. Just make this place a safe and cozy home.
We have been supporting people with disabilities since 2004. Our regular help is used by over 200 people and our Center in Południowa street in Konin is no longer big enough for us. Often we see lines of people in wheelchairs waiting to enter the room for activities. Nearly 20 assistants and specialists commute to the charges and work with them at home.
The number of requests for support and help is increasing. Some even want to move to Konin to be closer to our help. There is also a growing number of people who get in a wheelchair as a result of an accident, and the experience of our wheelchair users shows that the sooner a person starts exercising after an accident, the sooner they will return to functioning.
Our tragedy is that we cannot help everyone because we do not have a place for it! That is why we made a little crazy decision to find a larger building. We accepted the challenge and found Janaszkowo!
This is not a random place. Wąsosze is history, because here Doctor Piotr Janaszek organized one of the first camps for disabled children.
The Janaszkowo settlement will be built so that other disabled people have a place where they can learn to live with disabilities. We divided Janaszkowo into several parts. Each has its own specific purpose:
The Academy
The ACADEMY will assist people with disabilities who were permanently staying at home because of their disabilities. Sorrow, loneliness and helplessness have ruined their lives over the years. They do not work. They live on the allowance without any hope that it can get better. Their closest relatives no longer have the strength to carry and place them in the wheelchairs. They cannot leave the apartment because there is no elevator in the house. It  gets even worse for those  who live in the countryside. They will not even go outside the house because disability is considered a great "shame". At the Academy, we will support them on a daily basis. Here they will learn to live a full life again! After a few months of intensive work, many of them will be ready for independent life.
The Settlement
The SETTLEMENT is a place where people will have a new start in their lives. They are people who are ready and willing to become independent. They are not afraid to leave the safety of their homes, they meet new friends, develop their hobbies and work. They can do a lot of things themselves, but they need help to move from the bed to the wheelchair in the morning or to prepare breakfast. They want to live in a place where they will have support in the activities they cannot do themselves.
​
The Port
In the PORT, exhausted parents will have time to  catch their breath. They will not have to ask somebody for the care of a disabled adult offspring when they have to go to surgery, renovate the apartment or just relax. For a few days or weeks, they will be able to leave their child under compassionate care and not to worry that their child is missing something. In summer, disabled children from all over Poland will come to THE PORT. They will spend a wonderful holiday here. There will be joy and a lot of fun. They will learn independence, so that they can grow up to be young, independent people for whom disability will not be a hindrance to the realization of  their dreams!
​
The Workshop
In the WORKSHOP, able-bodied and disabled children will work together. It will be a place of meetings and games, creativity and cooperation, understanding and a lot of joy! Simply put: therapy through art and fun.
The Rehabilitation Center
We opened the modern REHABILITATION CENTER in June 2021 in the underground of the building. This part is already bustling with life. We provide regular classes and specialized treatments. Professional equipment enables better diagnostics. In the Children Department we work using QEEG Mapping. Cyber Eye enables understanding of children who cannot use verbal communication. We believe that thanks to this new technology, they will open up to the world. The best profesionals are in charge.
Help us create Janaszkowo Settlement
With all our hearts we give thanks to all donors who have already supported Janaszkowo Settlement. We are very greatful for your understanding of the needs of the disabled. As soon as possible we will start the first stage of the renovation project – installation of an elevator.
The building which we are renovating requires a major construction work. We must eliminate the thresholds and steep stairs, dry the foundations, mould the basements, install an elevator, two additional staircases and add a floor. Other major jobs include: adaptation of the bathrooms and rehabilitation rooms for special needs of people with disabilities.
There is plenty of work to get the project fully operational. In order to complete the necessary renovation work more than 6 million PLN is required. The need is the great, the time to act is now.
Przelew
Możesz nas wesprzeć także za pomocą przelewu:
​

Payment title

Donation – Janaszkowo

You can also make donation via GlobalGiving platform. Thanks to your support, the lives of many disabled people, who permanently stay at home, will change soon. Thank you ❤
Bank: ING Bank Śląski
SWIFT: INGBPLPW
Account number in Polish zloty
IBAN: PL78105017351000002425470123
US Dollar account number
IBAN: PL02105017351000009081180326
Account number in EUR
IBAN: PL77105017351000009081160740
Why the Janaszkowo Settlement?
It will be a special place, built on the basis of the values ​​and ideas, according to which Doctor Piotr Janaszek lived and worked. A socialist and a doctor who changed the lives of people with disabilities since the 70s. He helped dozens of people believe that disability cannot be a hindrance to dreams. He had time and attention for everyone. He was a visionary. He created Mielnica, which from a small Greater Poland village became a place where many disabled people began to live again. Disabled children, adolescents and adults on vacation under tents learned independence. Many of them for the first time in their lives were swimming in the lake and singing scout songs around a campfire. The doctor created one of the first occupational therapy workshops in Poland, where people with disabilities were learning professions and preparing for an independent living. He received many decorations for his activity, but the most important for him was the Order of Smile granted by children.
The doctor died tragically in 1998, leaving many unfulfilled plans. Today, his patients, friends and daughters are among the people who will create Janaszkowo. Together, we fulfill in the unwritten last will of Doctor Piotr Janaszek.
We invite you to watch a film which transfers the time to the eighties and nineties, shows the absurdities of the Polish People's Republic and the reality of the time. It is a portrait of the late Piotr Janaszek, a doctor who had a vocation, vision and persistence to transform this vision and dream into reality. The film is illustrated with archival materials which, like a time machine, take the viewer to another era. The excerpts from the diary that the Doctor kept enrich the documentary and make it not a film about the Doctor, but he himself as if he was co-creating it. The film shows the Doctor, his smile, reverie, effort, the guy with the guitar and the young man in the bathing suit, but also the second in command. A man still alive in our hearts.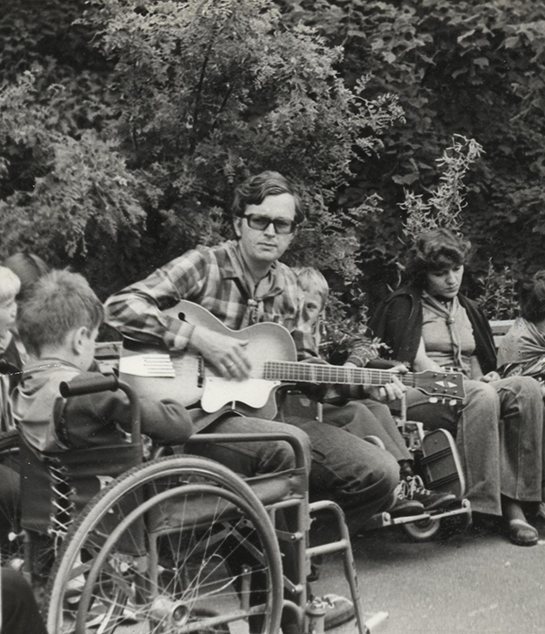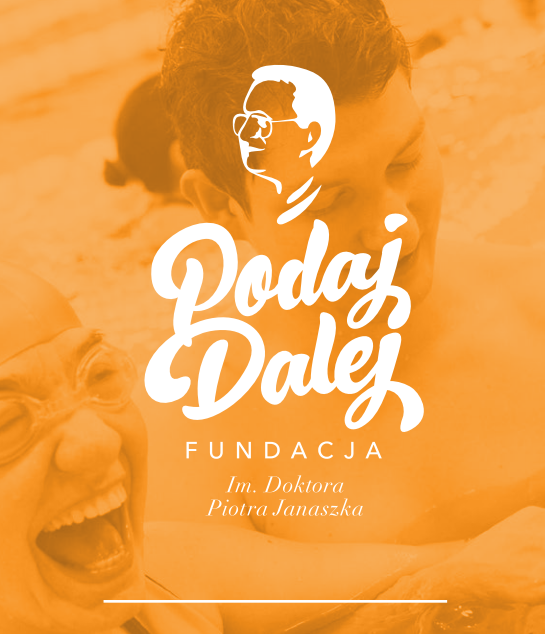 The PAY IT FORWARD Foundation
At Doctor Piotr Janaszek PAY IT FORWARD Foundation, since 2004, we have supported people whose disability hinders or prevents independent life. Every year, we take care of over 200 people who want to live normally, make their dreams come true and be happy. We create a better world for them.
In special training apartments people after accidents learn how to live in a wheelchair. During sports activities, they improve fitness and motivation. They prepare for work at trainings because they do not want to live on benefits. They develop artistic talents and create their own theater. Assistants help children do homework, and with adults they do the shopping, cook together, learn to move around the city. Disabled children from all over Poland come to our Little Explorers camp to learn independence.
We are happy to share our knowledge. Specialists from all over Poland come to the Foundation to learn modern methods of therapy through art. We give parents of disabled children support in coping with the hardships of everyday life and help to find time for themselves. We meet with children and young people in schools to disenchant disability and teach them how to avoid accidents. Teachers from all over Poland use our lesson plans. We prepare volunteers to work with people with disabilities. We train officials and professional drivers, including those in public transport in Konin.
Thanks to our audits more and more buildings are accessible for everyone.